Netflix has set up a form to suggest a film or series to add to the French catalog. Here's how to access this secret page. The platform may take your proposals into account!
Each week, the Netflix catalog is enriched with new content. Still, some films and series are obviously still missing. If you have a pressing desire to discover a program on the N red platform, know that it is possible to share it with the company. To find the series and films that will work in national catalogs, Netflix indeed follows the recommendations of Internet users.
To do this, the service has set up a form that allows you to urge local officials to include certain works not in the catalog. Here's how to get there.
Read also >> Netflix: 10 secret tips to use the platform like a boss
How to ask Netflix to add a movie or series to its catalog
From a browser, sign in to your Netflix account.
Then go to Help Center by clicking here or by clicking on your avatar.
Scroll down until you find the section Quick links.
Then click on Request movies or TV shows.
You can suggest up to three works at a time.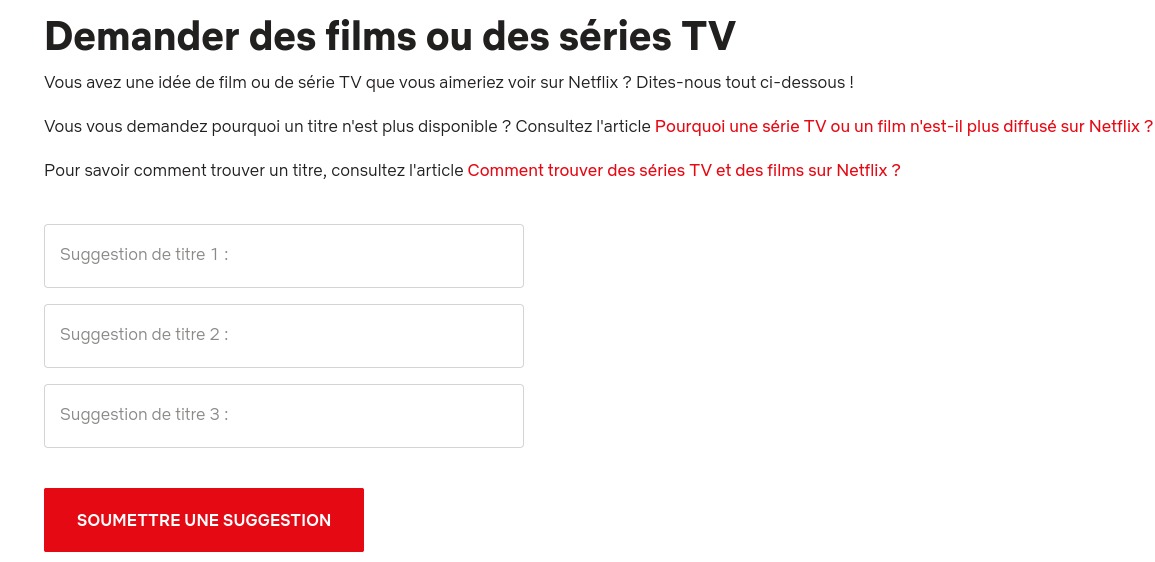 Finally click on the red button Submit a suggestion.
Read also >> Netflix: the best series to watch in 2021
Now you just have to cross your fingers and Netflix will take your suggestions into consideration. As a reminder, Netflix acquires restrictive licenses in all the countries where it is established. Consequently, we end up with catalogs whose size and content vary considerably from one country to another. This prompts users to turn to VPN services to overcome these limitations.
For example, you could suggest that the service finally include The Lord of the Rings in its catalog. Especially since the three films are offered in a slew of countries. But France has not yet had the right to this privilege, to the chagrin of users. To date, only The Hobbit trilogy is available to French subscribers.